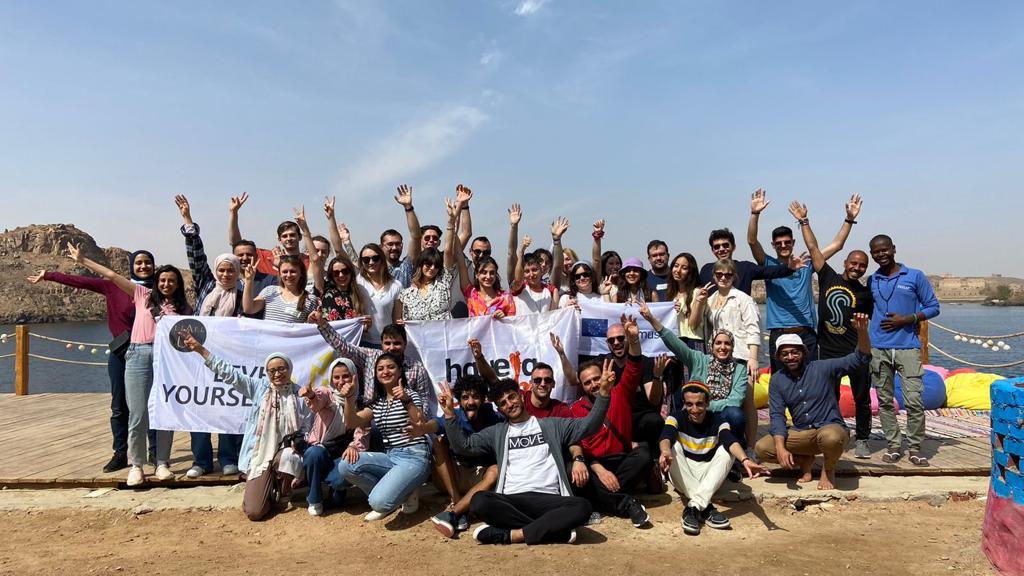 I am very grateful for the people I met there…

Creating an educational project outside Europe has been my goal for a very long time. By creating this project, we wanted to go a little beyond the comfort zone of European people and go to a place where we can learn something new from people whose life is shaped by another culture or religion, which is unfortunately sometimes considered aggressive and bad in Europe.
The exchange in Egypt was a very interesting educational, cultural and linguistic experience. We lived on an island on the river Nile, which was so wide that it looked more like the sea than the river. The south of Egypt is a place where Nubian culture developed very dynamically, so we had to visit the Nubian village and learn about the population who lived there 7000 years ago. We also had the opportunity to look into ancient tombs and see the caves that were inhabited many years ago. 
Very often during such exchanges young people learn each other's native languages and there is a lot of laughter and fun. What is definitely valuable in such exchanges is that we break all stupid social barriers because we integrate and play together regardless of our nationality, religion or political opinions. In the group, we strive for unity and we support each other, even if there are people among us who have a low level of social competence or don't speak English well. 
What I remember best is a game about excluding certain individuals from society because of their differences. The facilitator glued various shapes and colors to our foreheads and asked us to find our groups without speaking. Some people did not find their colors or groups, being representatives of those groups that are usually marginalized in a society. 
I am very grateful for the people I met during this exchange, for their openness, joy, willingness to share good, positive emotions and culture. 
I'm guided by the principle that life must be lived, not spent in the waiting room. Therefore, it is worth packing a backpack and going on such a project, which is an educational, travel and emotional adventure. Every minute from the moment you leave home can teach you something new and make you discover places in the world you wouldn't normally think to visit. It's worth breaking your imaginary barriers and hitting the road. Erasmus+ is for everyone, regardless of social or financial status, gender or nationality. It's worth opening up and simply taking the opportunities.
Justyna, 28 years old, youth exchange "Back to 7000 BC"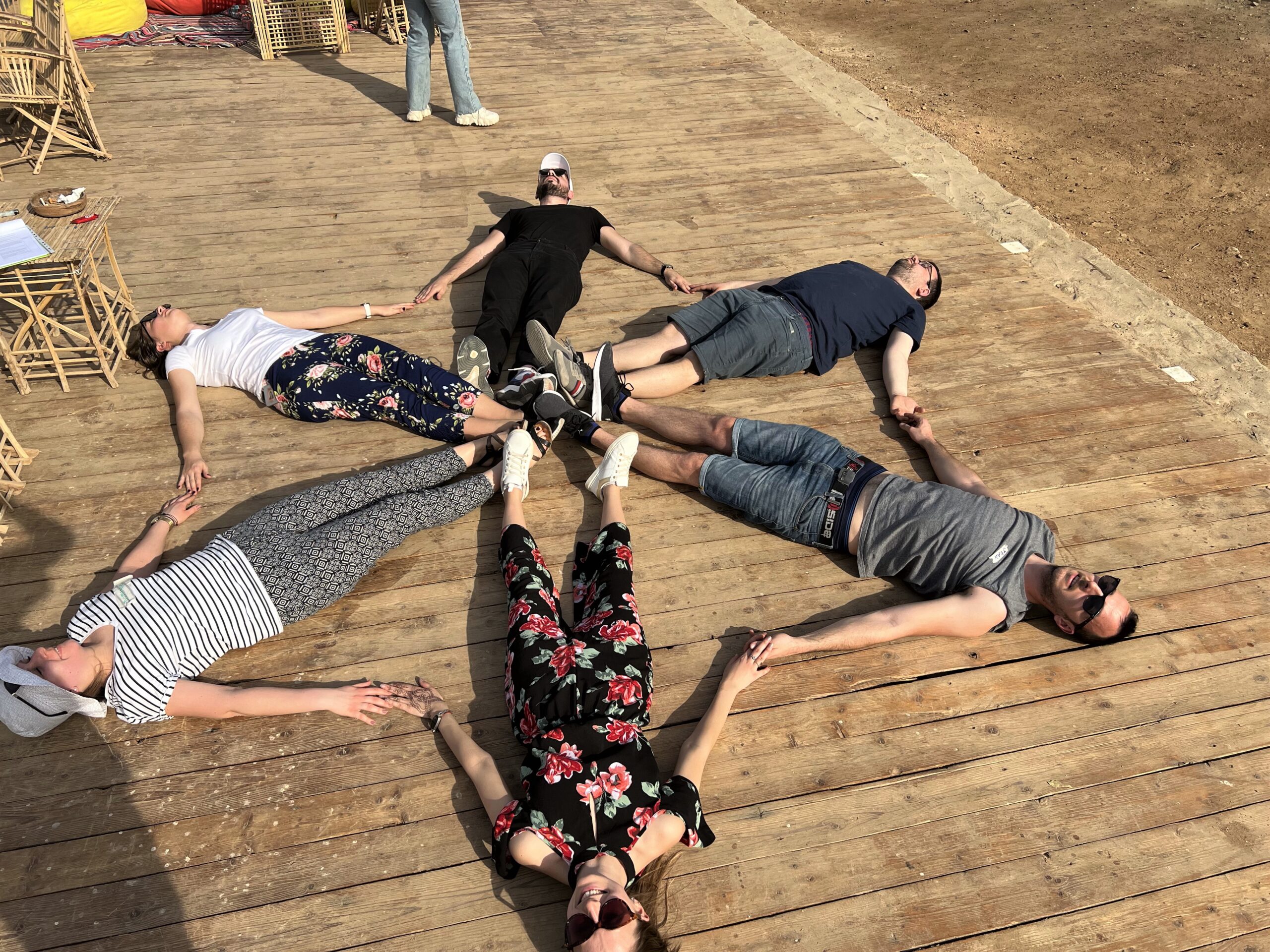 Thanks to such exchanges, you understand how diverse our world is…
It was my first youth exchange. First of all, learning about different cultures broadened my horizons and made me more open. This exchange helped me break down my communication barrier and made me more sociable. The level of my cultural awareness has increased significantly not only from the planned exchange program, but also from communicating with people from different cultures I didn't know before. Thanks to the exchange, I learned a lot about Islam, about which I had an opinion based on stereotypes, but now I understand that these stereotypes were wrong. I'm also very grateful to our host for the self-identification sessions. This topic inspired me to explore my personal self-knowledge.
This exchange will forever stay in my memory. I also find it difficult to convey all the emotions I felt while I was living on an island in the middle of the Nile. Beginning the day with breakfast while looking at the river, where one of the oldest civilizations of mankind was born, is an experience I will never forget. During coffee breaks, I admired the Nubian village located on the shore or looked into an ancient temple located on the opposite island.
But it was especially important for me to meet people from a different culture. Most importantly, these people were as interested in communicating with me as I was in communicating with them, because we were different from each other, but at the same time so similar. I am pleased to realize that I now have friends from countries that seemed so distant to me. But that was in the past. Such projects unite people and make them think more globally. It was an experience I'll always remember.
This is an experience that everyone should have. It changes your perspective, thanks to such exchanges, you understand how diverse our world is, and most importantly, such trips give you the opportunity to get to know it better.
Denis, 22 years old, youth exchange "Back to 7000 BC"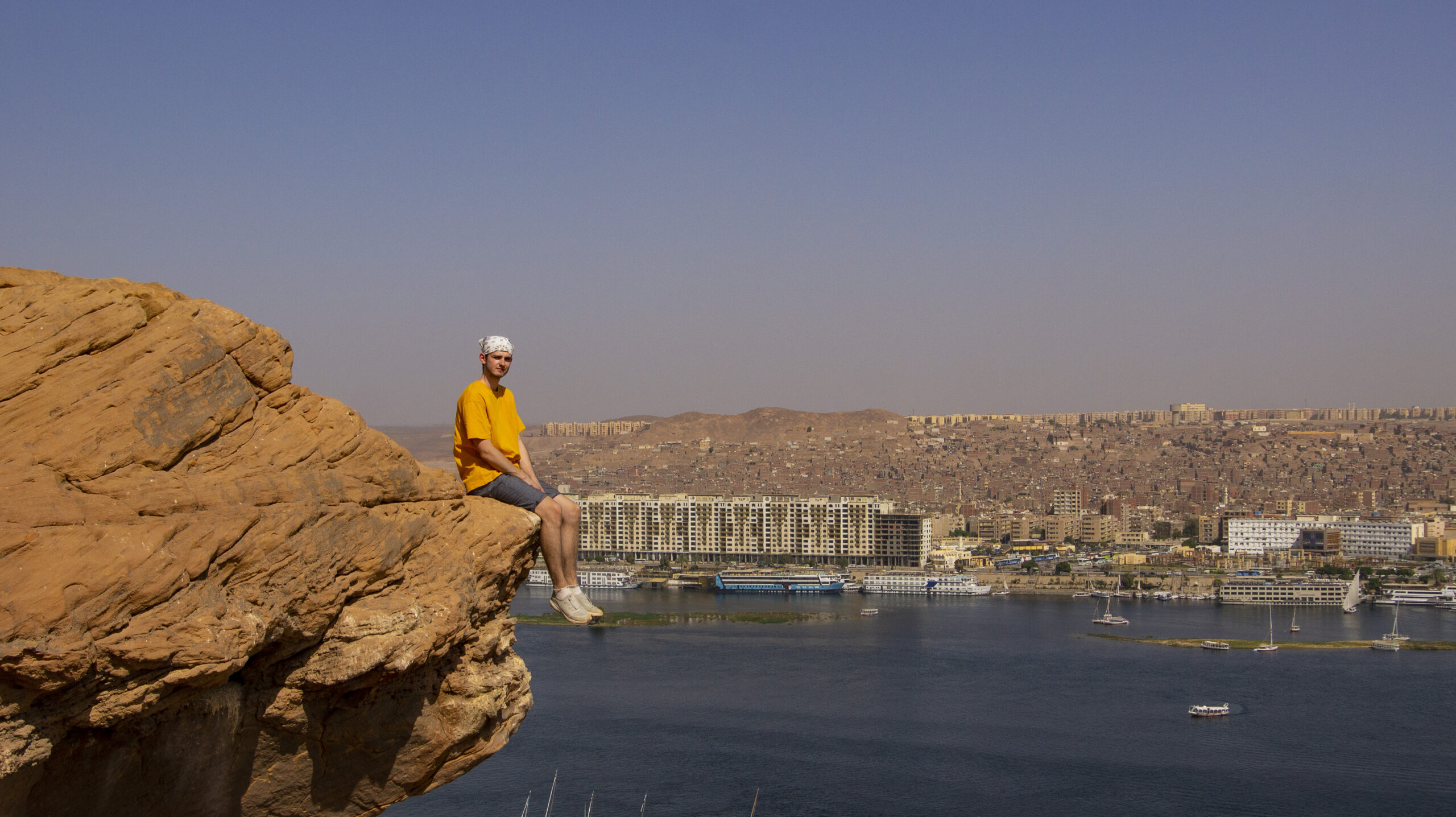 Aswan is a beautiful place, a center of Nubian culture. It was an amazing journey…
The exchange was an amazing experience. Frankly speaking, during the journey to Egypt, I wasn't sure what to expect, but after a few hours on the spot, I knew that the trip was a good decision. Not only did I learn a lot about intercultural dialogue and how to cooperate with people from different countries, but I also had the perfect opportunity to practise these skills. I met many inspiring young people and together we had many experiences during these few days we stayed together.
In addition to workshops and projects, I was also very impressed by the place where the exchange took place. Aswan is a beautiful place, a center of Nubian culture. It was an amazing journey. And when I think of store snacks for 50 cents, I still have a tear in my eye.
I am extremely grateful that together we managed to create space for open and safe dialogue. I am glad that I had the opportunity to learn the way of thinking of people whose cultures are very different from mine. 
If you want to open up to the world, learn new things, broaden your horizons, and gain experience that will be useful in your professional work in the future – do not hesitate, just apply.
Olga, 21 years old, youth exchange "Back to 7000 BC"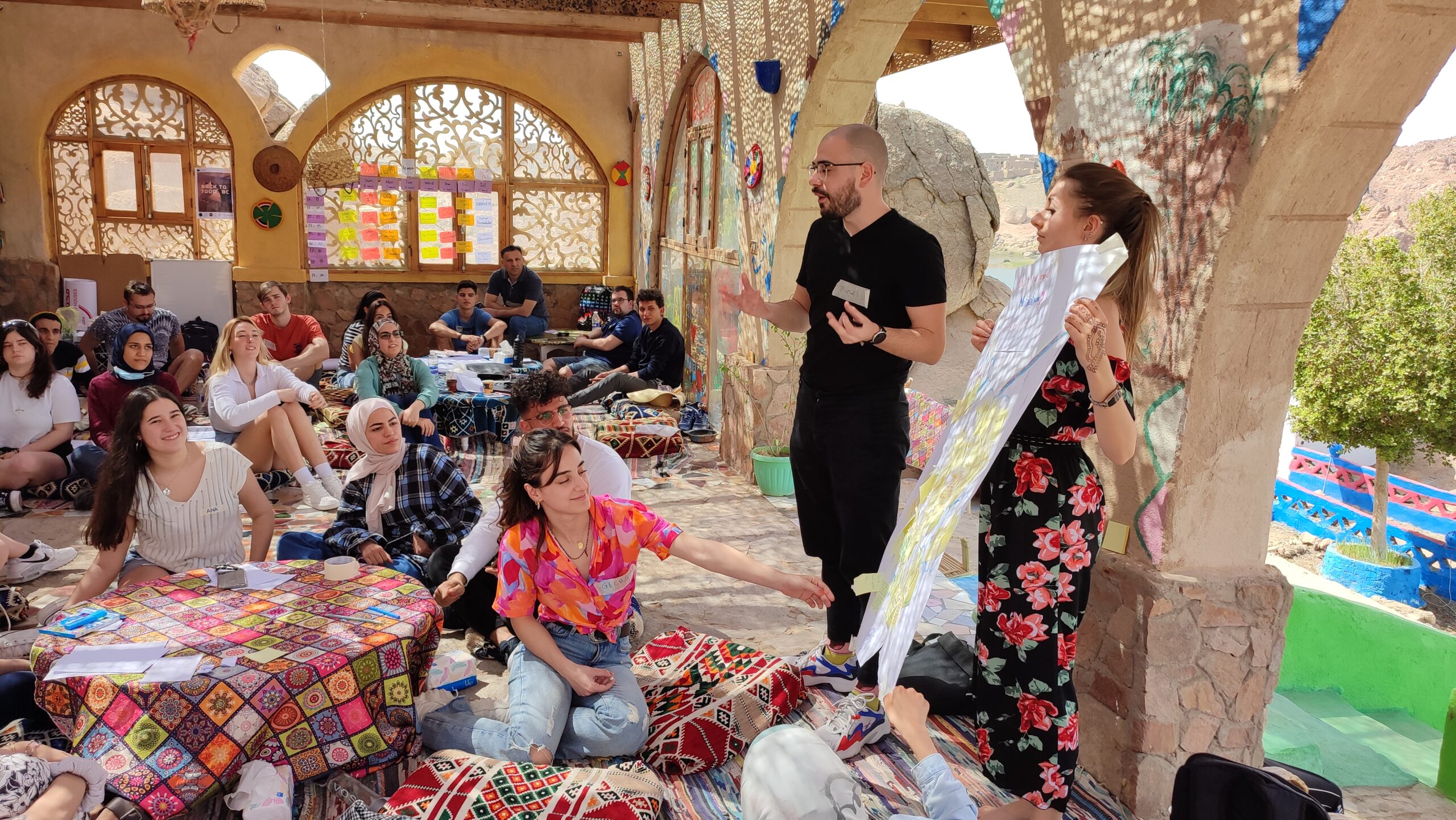 You have to try different things in life…
The aim of the project was to go beyond your comfort zone and open up to others. As an introvert, I find it hard to find myself in new places and surroundings, and this trip allowed me to work on this. Thanks to the project, I had the opportunity to get acquainted not only with many interesting people and cooperate with them, but also to learn about their cultures. This allowed me to achieve my initial goal.
During the project, I had the opportunity to gain knowledge about other cultures, learn how to get to know myself and others, as well as have the opportunity to gain experience as a team leader.
Many interesting people from different countries and cultures took part in the exchange. Everyone was willing to talk and spend time together, as well as participate in workshops or games. Thanks to them, I had the opportunity to learn a lot of interesting facts about the approach in some countries to various issues and also learn about different types of jobs that these people have. I also liked the attitude everyone had towards people who had a slightly lower level of English. It was based on patience. Thanks to that, these people were able to share their thoughts despite the language barrier.
What I remember best from the exchange are all the games and workshops that made everyone in the group get to know each other and also a lot of laughter, but more serious conversations and reflections as well.
I am very grateful for the opportunity. Thanks to it I met many interesting people, felt many emotions and had reflections, as well as got to know another culture. In addition, bathing in the Nile was a unique experience.
I would encourage you to try different things in life. If an introvert can have fun with a group of people he or she has just met, then such trips are worth it.
I recommend it because I got a lot out of the trip myself.
Krzysztof, 32, youth exchange "Back to 7000 BC"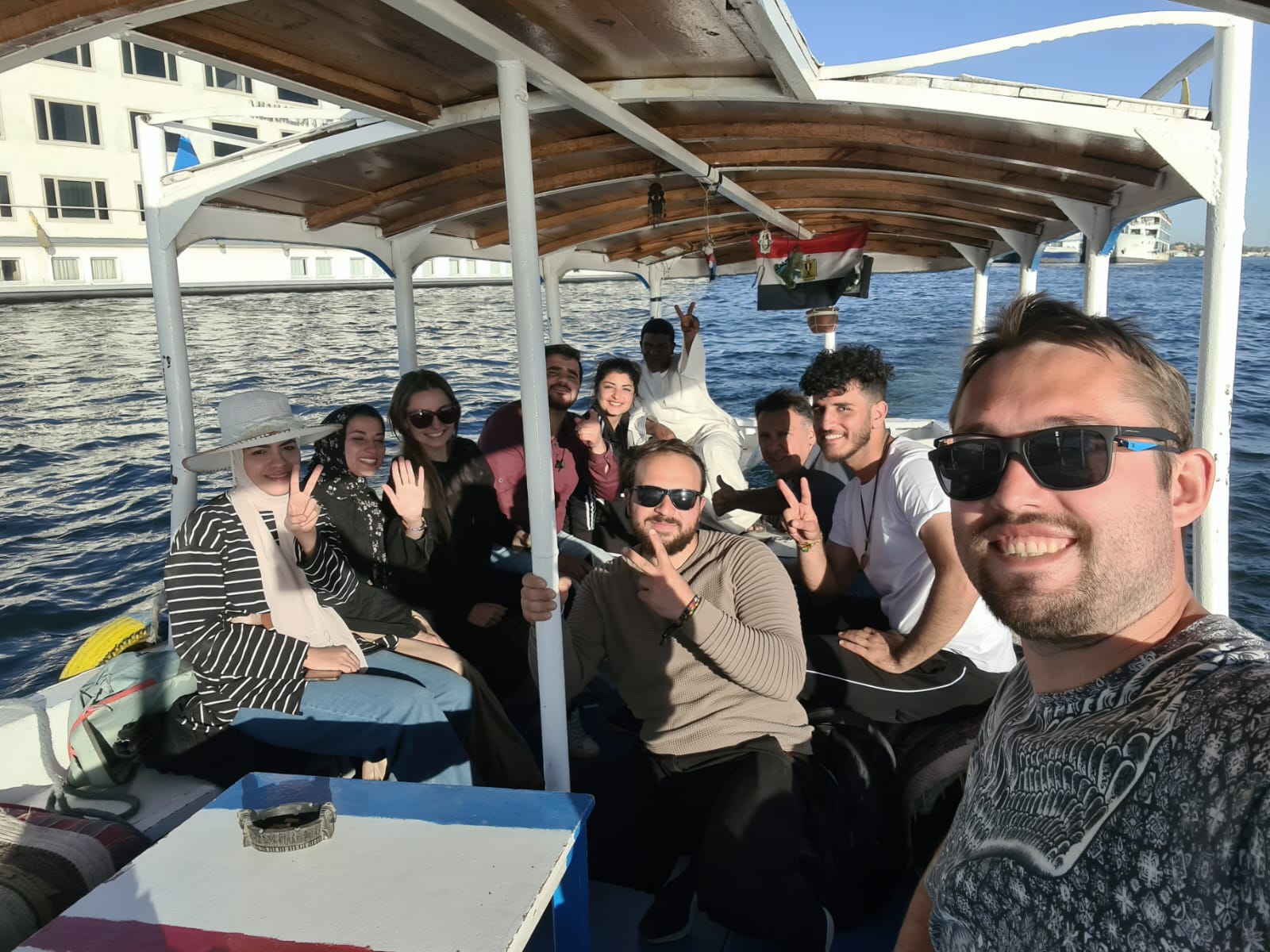 I was especially impressed by the place where we lived…
The exchange in Egypt was my first youth exchange. During the flight to Egypt, I wasn't sure if it was a good idea to take part in the exchange, but after the first day, I was sure that it was. Thanks to this exchange, I not only met a lot of people, but what's more important a lot of people from other cultures and countries. Throughout the exchange, we worked in a very friendly and sociable team, so I came back from Egypt with only good memories. The topic of the exchange was intercultural dialogue, and during it I learned a lot about Arab culture. I was especially impressed by the place where we lived. Every day we spent time in a place with a beautiful view of the Nile, a temple in Aswan. In Aswan I saw ancient temples, houses where people lived hundreds of years ago, and at the same time modern Arab life, which is sometimes very different from the one I was used to.
I also want to talk about the language barrier. Even after the English language classes provided by LEVEL UP I was afraid that I wouldn't be able to speak fluently, but most of the participants of the exchange didn't speak English perfectly and everyone always understood those who had difficulties with English.
This exchange was an amazing experience, after which I can say that I will be happy to go for another exchange with LEVEL UP, which I recommend to all members of the organization.
Denil, 19 years old, youth exchange "Back to 7000 BC"
ZOBACZ TAKŻE: Więcej o projekcie: "Back to 7000 BC"