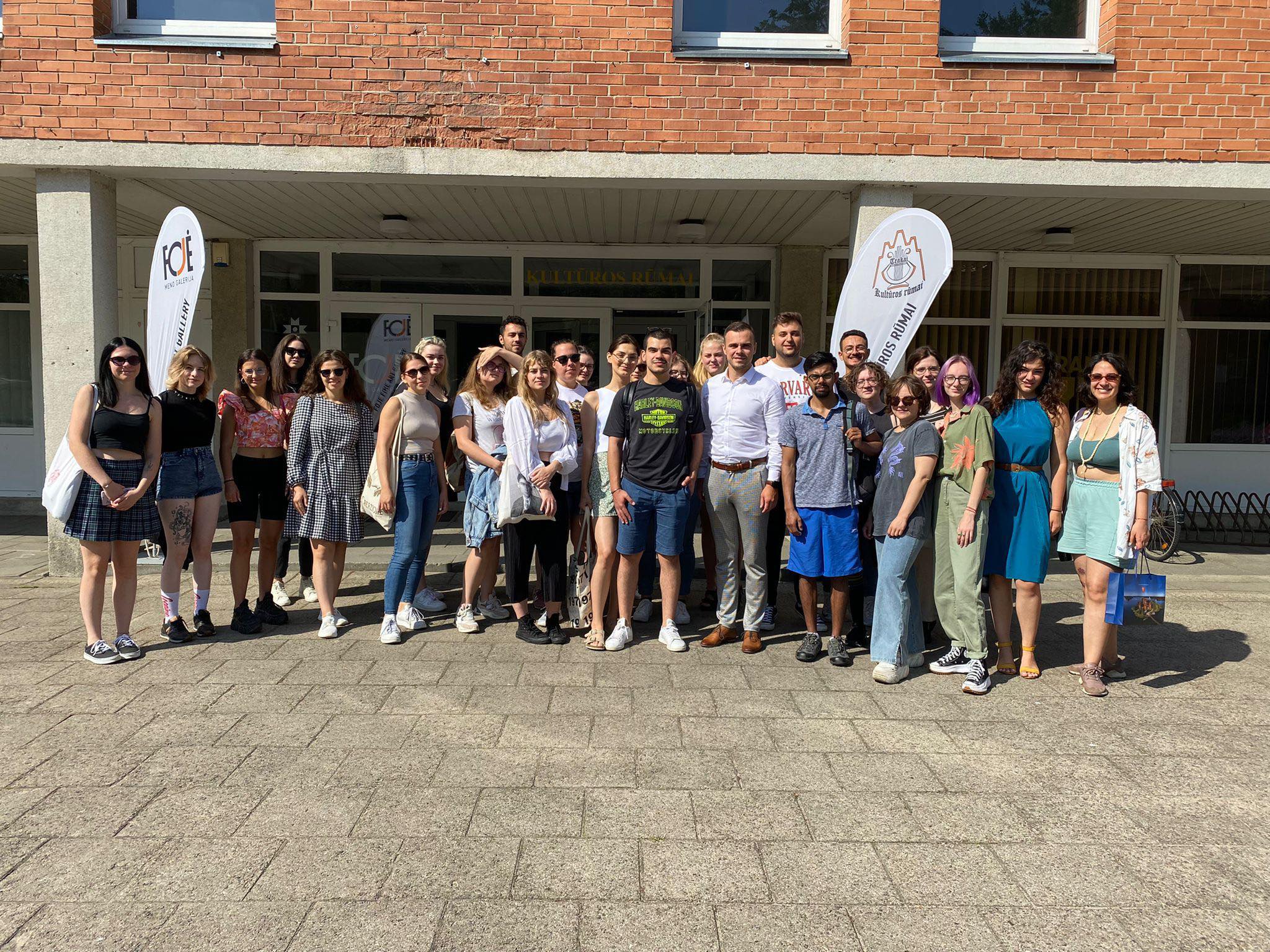 The decision to go to the project was one of the best ones in my life…
I went to my first Erasmus+ project with Level Up Association. I was anxious at first. I didn't expect to meet so many wonderful people, spend time so pleasantly and productively and get to know about myself and the world. I learned about problems of queer people in various countries. I made beautiful friendships and held valuable conversations concerning gender, fears and virtues. Thanks to group activities, we connected through numerous similarities between us, people from various countries and backgrounds. The decision to go to the project was one of the best ones in my life. I recommend doing the same to everyone who has an opportunity to. I also suggest visiting Lithuania because it is abundant in picturesque places. Personally, I have to add that Lithuanian dark bread is delicious!
I recommend taking part in a youth exchange to everyone. It is a unique and unforgettable experience, enabling me to learn and broaden horizons.
Julia, 20 years old, Erasmus+ Youth Exchange in Lithuania –  "Equality+"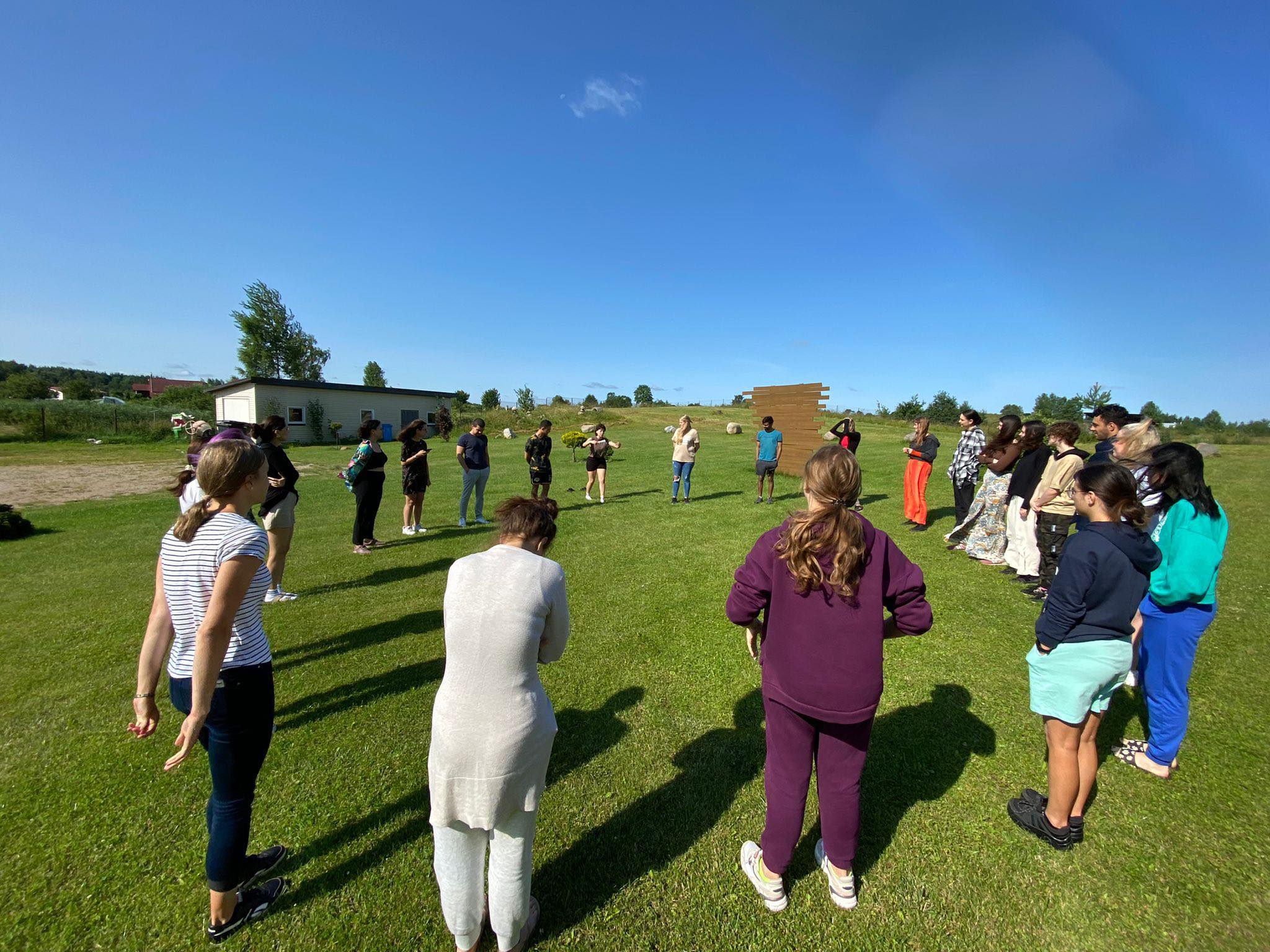 I have fallen in love with Lithuania…
The project's theme seemed quite unfamiliar to me. I wanted to change that, that's why I decided to apply for the exchange. Along with this, I was concerned that I would not be able to fit into our small project community. However, in the course of the project I got support from the other participants as well as from the organizers and I realized there was nothing to worry about. What's more, I fell in love with Lithuania thanks to well-organized tours and tasty traditional food.  I'm happy that I gained knowledge in the domain of LGBTQ+ and I made new friends from five different countries.
Youth exchange is always a wonderful adventure! It offers meeting new people, discovering other countries' culture and expanding knowledge through nonformal education. One Erasmus is all it takes to not resist other trips! 🙂
Anastasiia, 21 years old, Erasmus+ Youth Exchange in Lithuania –  "Equality+"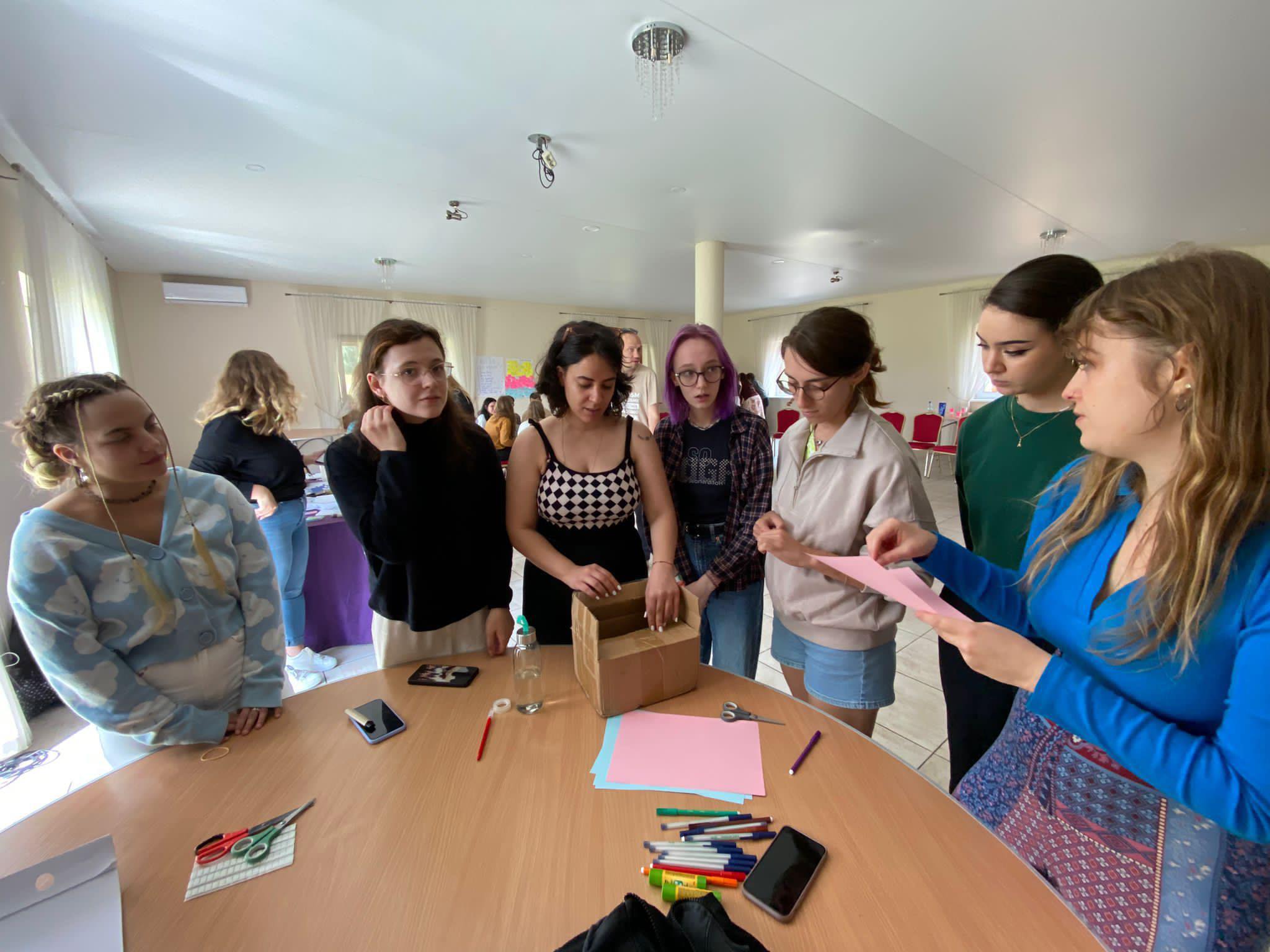 I will definitely stay in touch with some people….
As soon as I heard about this project I knew I had to go there. I've taken part in Erasmus+ projects before but they were only school exchanges with no main theme, not focusing on exploring certain topics. Consequently, I was a bit anxious at first about not knowing what to actually expect. My worries disappeared right after the first day. I met great people, learned about their culture and problems that queer people face in their countries. Being a part of a minority often gives a sense of community. We are connected through some unique experiences no matter our nationality, age or interests.
I will definitely stay in touch with some people. In fact, I am already planning a trip to Budapest in my mind to visit two of them. This trip was extremely beneficial, although it lasted only about a week.
I recommend youth exchanges to everyone having time. Such trips are one-of-a-kind experiences. I believe that one has to live them by himself/herself to truly understand their uniqueness. I know it won't be the last exchange for me.
Kass, 23 years old, Erasmus+ Youth Exchange in Lithuania –  "Equality+"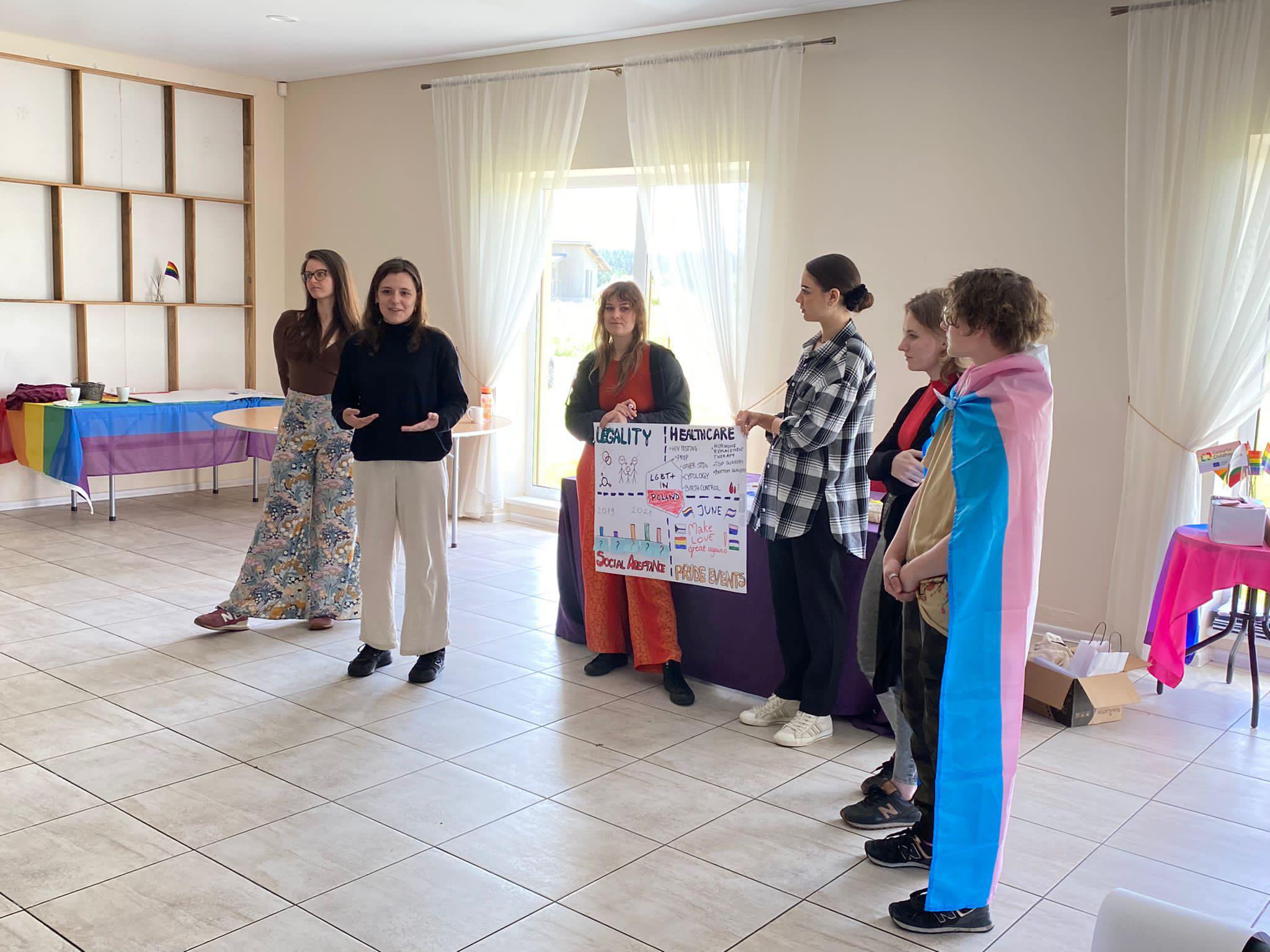 With the right approach, long-term friendships can be made…
The project focused on equality of LGBTQ+ people, discrimination  they encounter and difficulties they face. We also discussed human sexuality and acceptance in general. I've already taken part in many other international exchanges but I was especially impressed by the openness and positive energy coming from all other participants. What surprised me about Lithuania? The country itself is similar to Poland and still, with a little persistence, you can get along using only Polish language. 
Many people from outside the LGBTQ+ community  willing to learn more about the topic and pass on their reliable knowledge  were involved in the project.Due to this fact, I belonged rather to a group of people sharing their knowledge and experiences. It is an interesting aspect of such projects – not only the organizers are the educators, but also participants can educate themselves. The variety of cultures, however, may lead to misunderstandings. We noticed this during one evening when we had a quiz about Turkey. There was a question about Turkey's 'capital city'. In the answers appeared the real capital city, Ancara and Istanbul which is considered as a principal capital city by unaware people. The majority chose Istanbul, as the quotation marks are perceived as a form to express irony or a joke in Polish cultural circle. When asked which meaning was meant, the Turkish people did not really understand what was being asked. It turned out that marking Istanbul was a mistake, because in Turkey, inverted commas have the function of emphasizing the marked phrase, just like our boldface. For the rest of the evening, people 'quoted' with their fingers on whatever the Turkish group had to say.
A trip to such a project is an amazing experience. Cooperation with people from different cultural circles helps in broadening horizons and developing oneself. With the right approach, long-term friendships can be made!
Jaśmina, 22 years old, Erasmus+ Youth Exchange in Lithuania –  "Equality+"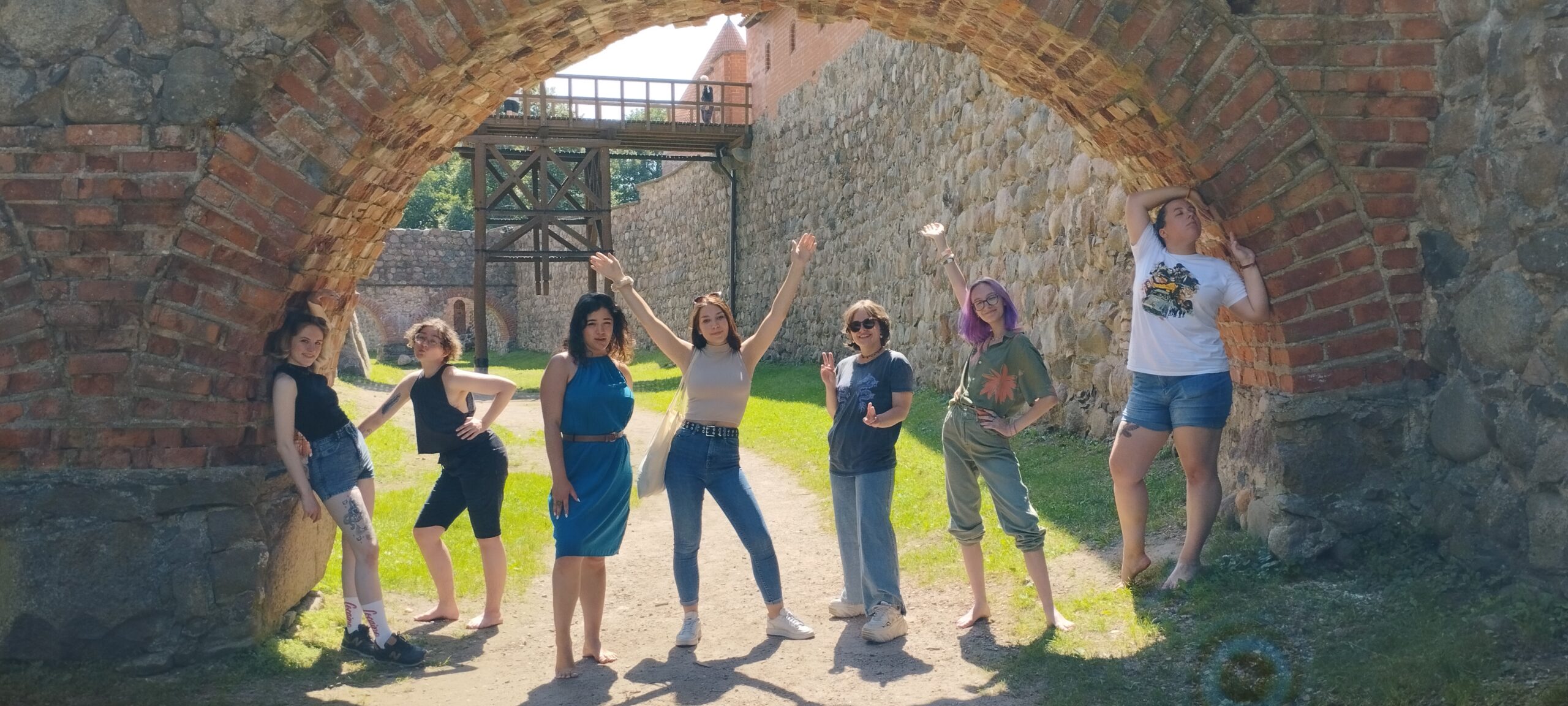 Lithuania is a beautiful country. The landscape definitely enables work-life balance….
Co-working in a young, international team is an unforgettable experience. I was amazed by the energy and ideas flowing in our group. We could inspire and stimulate creativity in each other thanks to our different cultural backgrounds. The theme of the Exchange raised my awareness of the situation of people identifying themselves as LGBTQ+ in different countries. We had a safe space to exchange our thoughts and share the difficulties we face every day. It was an excellent opportunity to make new, valuable friendships which hopefully will stand the test of time.
I will definitely have positive memories of this trip, as it helped me break some of my stereotypes and gain useful knowledge. Lithuania is a beautiful country, its landscape definitely boosts work-life balance. A short walk is enough to entirely clear your mind.                                                                                                                     PS: I recommend checking on your own if it's true that Lithuania has the fastest Internet connection. 😉 
I wholeheartedly recommend youth exchanges. It is crucial to choose the theme of such an exchange taking your own preferences and expectations into account. In my opinion, sharing photos and videos from trips is the best way to encourage others.
Natalia, 23 years old , Erasmus+ Youth Exchange in Lithuania –  "Equality+"
Zobacz także: Więcej o projekcie Equality+