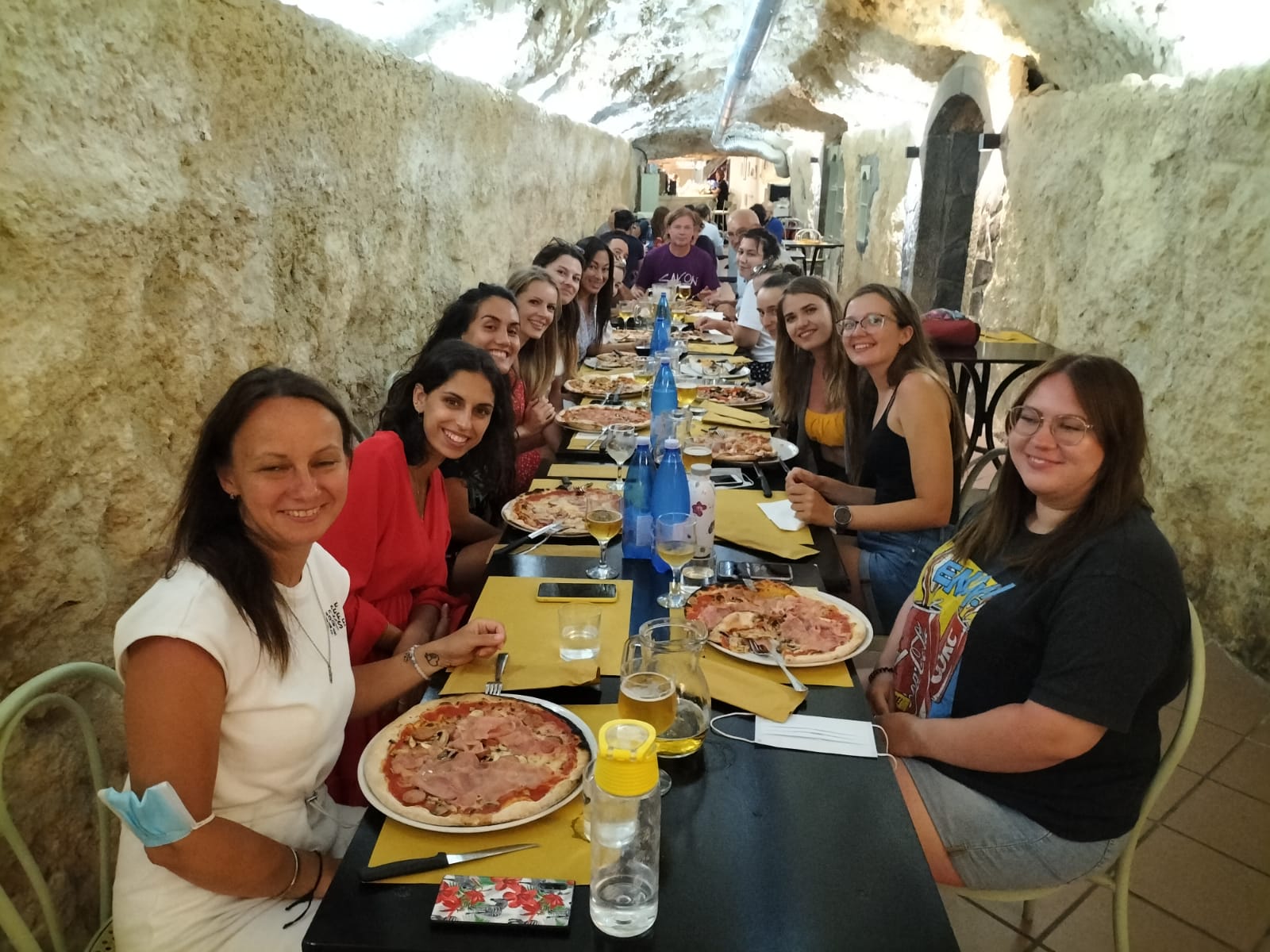 The organisers showed the realistic Italian hospitality…

To me, a trip to Italy was a valuable experience which I will remember for a long time. The subject of the seminar was working methods and youth activities during a pandemic and the challenges involved. However, both organisers and many participants made no secret of the fact that they arrived in Sardinia to have fun and enjoy sunny weather as well as time spent with other participants more or less familiar 😉
The main advantage of this trip was an opportunity to use English in day-to-day communication and to break the language barrier. It was also great to meet people from different countries, cultures and social circles. Such activity required openness but allowed one to broaden their horizons and to get to know many new things. For the first time in my life, I got an opportunity to be in an international environment made up of people from Portugal, Slovenia, Brazil, Serbia, Latvia and Romania. 
A seminar took place in charming Cagliari – the capital of Sardinia. I spent almost a week there. Not only did I manage to visit this city with its centuries-old history, dating back to ancient times, but also admired beautiful views and feasted my stomach on culinary delights 😉
The organisers showed us realistic Italian hospitality and made an effort to show the diversity of the place where they had invited us. As a result, we got the chance to take part in a full-day cruise, fun at a beach party and also to test our vocal abilities during karaoke night 😀
The long-awaited moment for everyone was the meeting with a long-legged, pink flamingos – the symbol of Cagliari 😊
The whole trip was a wonderful holiday experience and an opportunity to break one's barriers in many areas. Although the whole journey involved a great deal of stress and a level of uncertainty, I don't regret taking up the challenge and seizing the opportunity that happened unexpectedly. 
Dominika, 24 years old, "YouthRise" seminar
The seminar in Cagliari was, in a way, a stage to change my attitude and thinking…
When I think of a seminar in Cagliari, the first thing that comes to my mind is people. I met many amazing people who will remain in my memory for a long time. I think that they didn't appear in my life accidentally – they helped me to go through a certain process. A process of changes that caught up with me during the quarter-century crisis 😉
The seminar in Cagliari was, in a way, a stage to change my attitude and thinking. We moved around significant issues for me, such as crisis management and changes caused in our lives by the pandemic. What I needed the most in that time of my development was the possibility to share my pandemic experiences with others. The fact that during workshops, I learned how to manage a team to be an effective leader was also beneficial. 
In addition, the trip was an introduction to the culture of positive energy and good food. It is an amazing trip to the sunny land of happiness where no one is in a hurry and simply savours the moment.
When it comes to Sardinia, it itself is an island of picturesque towns and sandy beaches. It is a paradise for the fans of pizza and Negroni. I truly recommend choosing this localisation for every project. After all, when it comes to learning, it's the best in paradise 😉
What was the most memorable for me? Probably our farewell karaoke night. Despite knowing each other and the other participants for just a few days, we were sad that this was our last evening together. We decided to spend it like there was no tomorrow, and all of us, with smiles on our faces, showed our lack of vocal abilities. We sang almost every song out of tune and even tried to sing in different languages. Although more than one person could be disgusted by our vocal raptures, we sang on unabashedly because we were together. Probably this unity in otherness and the feeling that we are in a group with people who are very close to us, yet distant made that each time I think about this event, it feels as if it was yesterday. 
Kamila, 25 years old, "YouthRise" seminar 
SEE ALSO: More about the "YouthRise" project