Project duration:
August 2023
Together we can do a lot! Volunteer picnic

The project involves organising a meeting of volunteers from various organisations in the form of a picnic at Stawy Jana in Łódź. The motivation for this project is the change in the volunteer community caused by the global situation. Volunteers have encountered various emergency situations in recent years, which has allowed them to gain new experiences. For this reason, we would like to make it possible for volunteers to get together to exchange knowledge and talk about their observations. This will allow the development not only of the various organisations, but also of the volunteers themselves.
Activities carried out during the project:
open picnic for volunteers 
What we do during the project:
build a network of contacts with various organisations and volunteers;

 exchange experiences among volunteers;

 share knowledge on how to deal with crisis situations;

discuss volunteering;

share our knowledge and experiences with other organisations;

share good practices in being a volunteer;

discuss the challenges that appear while volunteering;

discuss the motivations for being a volunteer;

look for new solutions to crisis situations.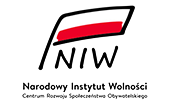 National Freedom Institute – Centre for Civil Society Development with funds from the Long-Term Volunteering Support and Development Programme 2018 – 2030 Solidarity Corps as part of the "Solidarity Corps Mini Grants for Volunteering Initiatives" competition.