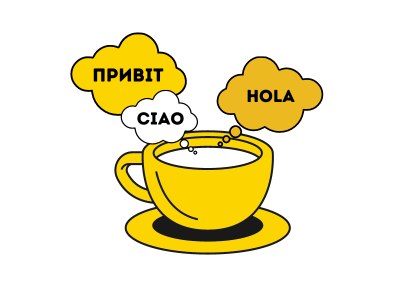 Lokalnie, interkulturalnie

"Locally, inter-culturally" is a project dedicated to people who want to broaden their knowledge of foreign languages and learn basics of Ukrainian, Spanish or Italian. The meetings are organised as weekly language cafés where participants can socialise while learning together. The classes are free of charge and participation does not require registration.
Duration of the project:
2022-3-PL01-ESC30-SOL-000093323
Reference number:
2023-05-31 – 2024-05-30
Activities to be carried out in the project:
Weekly language cafés (Spanish, Italian, Ukrainian) – in total 123 language meetings

3 meetings with a traveller – meetings with travellers and members of international voluntary organisations

Integration festival for the locals and people from abroad to be held in Łódź

Family picnic with games and activities to end the summer holidays

Week of Foreign Languages

Promotion of international volunteering, overseas mobilities and European programmes at universities in łódzkie province

Thematic event: Day of the dead in different cultures which are different from the Polish one

Thematic event: Christmas and New Year customs and additional festivities, and legends in different

countries

Creating Christmas cards for lonely people and collecting toys, sweets, clothes etc. to create parcels for children from the orphanage

Collection of old books for the library or for people suffering from social crisis

Joint reading of foreign literature in one of the libraries in Łódź

Language revision for high school graduates 

Basic Polish classes for foreigners

"New year, new me" – Online promotion of volunteering and e-volunteering in line with the mission of the LEVEL UP
Co robimy podczas projektu:
We provide workshops in Ukrainian, Spanish and Italian

We support learning of languages other than English.

We integrate people from different cultures/social groups

We demonstrate our commitment to volunteering

We organise language events

We organise a language picnic

We bring other cultures and customs closer to the inhabitants of Łódź and łódzkie province

The project is realized by the European Solidarity Corps from the European Union funds.